Since their February 2017 hookup, Cardi B and Offset have become one of Hip Hop's "it" couples, but even they aren't immune to social media pranks.
Cardi and Offset, who welcomed their second child together last month, walked the red carpet at Balenciaga's Spring/Summer 2022 presentation during Paris Fashion Week on Saturday (October 2), dressed head-to-toe in the premium brand.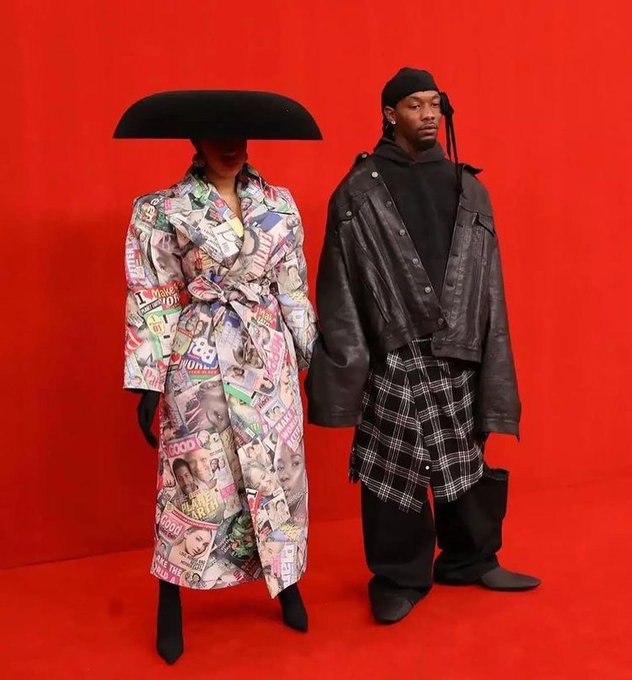 As soon as Cardi B and Offset's red carpet images started making the rounds on social media, jokes started flying, with many fans comparing their outfits to the arcade fighting game franchise Mortal Kombat.
"Look like they're bout to be in a hood Mortal Kombat," one follower wrote on Elliott Wilson's Instagram post, while another joked, "Take me to the KANG." The roasting also spilled over to Twitter where jokes about Samurai Jack, umbrellas and frying pans rang off.
Despite the boos, Cardi B and Offset continued to show their star power at Paris Fashion Week, attending events and parties around the French city. Offset was also chosen to walk the runway for Balenciaga's Spring/Summer 2022 show, making Cardi a very pleased wife.
"So proud of my husband @offsetyrn who walked the show!" she wrote on Instagram while sharing photos from the event.
Cardi and Offset were also seen at Kid Cudi's Entergalactic party in Paris on Sunday night, slamming down shots with fellow Hip Hop fashionista Kid Cudi (October 3). Last month, at New York Fashion Week, Cudi staged the inaugural edition of his new "nightlife experience," where he partied with Travis Scott, A$AP Rocky, Kehlani, and others.
(1)